Happy Thanksgiving! 4 Tips for a Healthier Holiday
November 26, 2018
                               Happy Thanksgiving!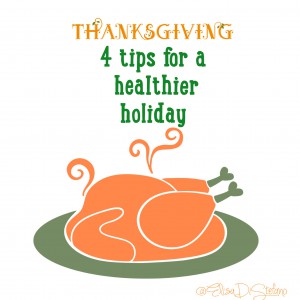 One of my favorite feasts!
I believe in indulging on holidays…  without overdoing it. So, as we count down to turkey time, I asked my nutritionist Stacy Moutafis for her 4 top tips for a healthier holiday.
Don't go to Thanksgiving dinner hungry.

  That's right. Don't skip meals and try to "save" your calories for the big dinner. If you show up starved you are bound to gobble up appetizers and noshes and be stuffed before the turkey is even served! Speaking of turkey…
The skinny on turkey is…

the white meat is way better for you. The dark turkey meat has 200 more calories and 10 grams of fat more per serving.

Trim your trimmings. 

Choose (gasp!) ONE side and limit it to one cup of that side. Ouch. So much for seconds. 

Pick your pleasure.

  Dessert or drink. Both are loaded with sugar and should be avoided. But, since it's a holiday…  if you can't resist, either choose to have one dessert OR an alcoholic beverage.  
Oh yes, and don't forget to get in your calorie burning cardio.
Wishing you all a very Happy Thanksgiving and a beautiful feast with your loved ones!
Counting my blessings & giving thanks with a grateful heart xo, Elisa