Happy National Pizza Week …which is every week in our house!
January 14, 2019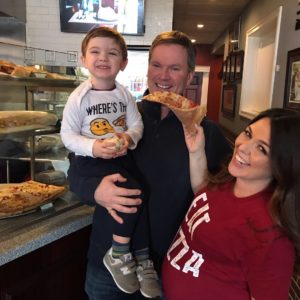 I'm not sure who exactly comes up with these "holidays" … but this is one our family can certainly get behind!
I've always loved pizza… growing up, my uncle used to tease me and call me "Elisa Pizza"… that I didn't love so much!
Never in a million years did I ever think my family would end up owning a pizzeria!
Like owning any business, the restaurant business far from easy. I feel my husband's stress every single day. But as challenging as it is, having a family business is truly a labor of love. And I love Mo'NElisa (get it, Mo & Elisa… Mo is my husband btw!) and what it is all about … "where food meets family". I come from a big Italian family. We still get together and gather around the table for dinner (no later than 3) almost every Sunday. A lot of those Sundays now happen at my house (with Mo'NElisa food) or at the restaurant. You should see my 92 year old Poppie eat a huge bowl of linguine and clam sauce! I take so much pride in our menu which is packed with family recipes. I love when my family members read it and beam with pride too when they see dishes named after them.
It makes me so happy to see how much Christian loves spending time there- it's his second home. We literally opened our doors the week he was born (yep it was totally nutso… he was early, opening was late!) so he's grown up there. He visits almost every day and immediately asks for dough and asks "what do we have today?" wanting to know the special pies (but always picks regular)! Then he wants to visit everyone in the kitchen & of course greet and perform a song and dance for our guests!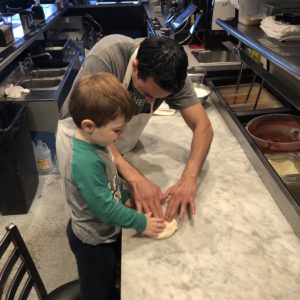 It's really special for me that Mo & I have something we can collaborate on (although he does all of the hard work). We feel so lucky to have a place our family and community can gather…. an extension of our dining room (which we're quickly outgrowing & where luckily for everyone I am not the one cooking!). I hope we can continue to grow this business so we can grow a brand that can make a difference in and give back to the community… and so that Christian and this new baby will always have their second home.
A few months ago, a company we work with chose Mo'NElisa out of all of their clients across the country to feature in a video that tells our story….